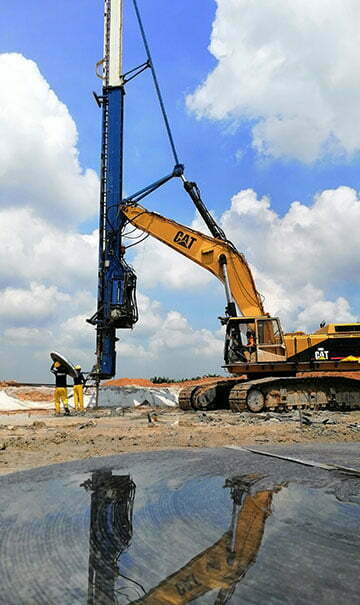 Compact Geotech PTE Ltd is a newly-established company based in Singapore. The company specializes in providing dredging solutions and ground preparation works. Dredging solutions.
Integration of survey equipment , project planning, daily analysis of project control system(PCS) versus planned project execution plan (PEP), full control with operational management system.
Maximize efficiency production of dredgers at the lowest capital expenditure & operational expenditure.
Ground Preparation for Construction Requires Both Horizontal & Vertical Drainage which in turn make Dynamic Compaction Solutions possible
Phased Delivery of Land Plots, Which Dramatically Increases the Rate of Return on Capital Expenditure.
Reduction in the Capital Expenditure Requirement of Funding of the Project.
Reduction in Construction Costs for the End Client due to Soil Compaction of Site.
In 2022, the company will launch a joint venture to construct internationally licensed dredgers in Bangladesh

Compact Limited (CL) was established in March 2017 in Dhaka.
The company has worked on more than 28 projects within the last 3.5 years and has quickly expanded from simple construction to infrastructure development, renovation, residential, and remodeling projects.
Clients include the Bangladesh government, major utility players, and international companies.
CL prides itself in being involved with projects that have a significant impact on the people of Bangladesh. These projects include building and supplying for Max Group, Dhaka Mass Rapid Transit Development Project, Padma (Jashaldia) Water Treatment Plant, Bangabandhu Hi-tech Park, and many more.
CL's vision is to become a leading global company as a Construction Service Provider and Construction Products Manufacturer by using and offering the latest materials and techniques while maintaining maximum safety measures.