Lieutenant General (Retd) Sheikh Mamun Khaled is a passionate leadership developer with an experience of more than 39 years of distinguished service in Bangladesh Army. Currently he is working as the Chairman of the Board of Sublime Group. He was born in 1962 and got his commission in 1981, and thereafter left outstanding footprints in the all the capacities that he served.
Lt Gen (Retd) Mamun Khaled was the Director General of Directorate General of Forces Intelligence (DGFI) and also the Vice Chancellor of Bangladesh University of Professionals (BUP). Later, he served as the Commandant of National Defense College (NDC) responsible to prepare senior military officers of Bangladesh Armed Forces, foreign military officers, and Civil Service officers on strategic leadership roles.
Lt Gen (Retd) Mamun Khaled completed his first MBA from Royal Roads University, Canada, second MBA from University of Dhaka and third MBA from Bangladesh University of Professionals. He also achieved an MA in International Security and Strategy from Kings College, London and an MA in Defense Studies from National University, Bangladesh, He completed his first PhD on Change Management from Bangladesh University of Professionals and second PhD from Jahangir Nagar University, Dhaka on Visionary Leadership. He also completed his Post-Doctoral Fellowship on Strategic Leadership from Bangladesh University of Professionals. He is currently pursuing his Doctor of Business Administration (DBA) program on Disruptive Leadership from Teesside University, UK.
United Service Institution (USI) of India has awarded Lt Gen (Retd) Mamun Khaled with Distinguished Fellowship for his exceptional contribution to the study and practice of Leadership. He received Chancellor's Gold Medal twice for his outstanding performance in PhD Program and for securing 1st position with CGPA 4/4 in MBA at Bangladesh University of Professionals. He was also honored with Outstanding Service Medal and Military Excellence Medal for exceptional performance from Bangladesh Army.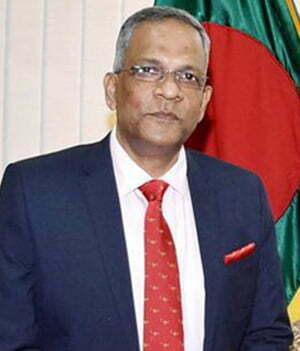 Lieutenant General (Retd) Sheikh Mamun Khaled
Senior Advisor
Agile Minds Solutions Limited